Most Health IT applications are built and sold as enterprise solutions that present:
significant cost outlay for the hospital
disruption to workflow routine for many people who work delivering care
considerable new risks to patient data and system security
This typically means that approvals take many months. That can extinguish the appetite and enthusiasm for actually using this tool, and continuing to pursue it's deployment and use.  It's this precedent we seek to break…
A New Model: SELF-DEPLOYMENT
The Individual Edition of the QiiQ Assistant is a clinician's productivity tool. At the outset, it is intended to serve the needs of an ER physician.
We want to make it the easiest/fastest deployment imaginable. The steps outlined below are what should be expected to deploy the QiiQ VA in your environment:
Download the App through the App Store or Google Play
Contact your IT department to determine if you have a FHIR endpoint enabled for your EHR. The FHIR endpoint allows third-party applications to connect with the medical record without requiring the traditional time-consuming and resource intensive integration interfaces.
If your hospital does not have a FHIR endpoint or the EHR API (application programming interface), the Individual Edition may not be the version you can currently deploy, and you should contact us for more information!
Ask your IT department (or Chief Information Officer/CIO) if they allow third party applications to access the data.
They are likely to need more information before they can approve access to patient data by the QiiQ application.
Present this information to them; it should provide adequate assurance to them that the application is safe to use.
With that assurance, they should be happy to provide access to you, by giving you the "FHIR Server Address."
Launch the QiiQ VA, and enter go to the settings page by tapping the mic button and saying "Go to settings", and type the FHIR endpoint exactly as it appears in the "FHIR Server Address" field.
You will then be prompted to log into the application using your EHR username and password.
That's it! You are now able to use the QiiQ VA with your EMR.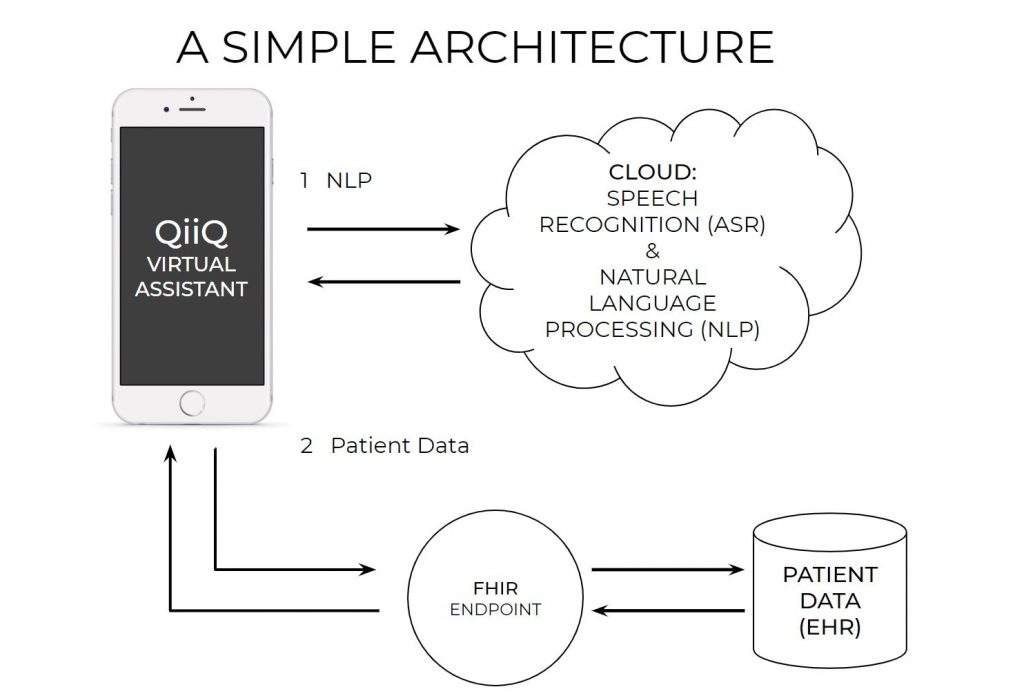 Q. What if my hospital doesn't have a FHIR Endpoint?
Answer:
The easiest way to get started is to use the FHIR interface, since it cuts out a lot of the integration work that is typically needed to install third-party software. If you don't have a FHIR-enabled EHR, please  ask your IT department what the plans are to acquire it. Since API access is required for Meaningful Use Stage 3 Attestation, many hospitals either have API access or have a schedule for deployment. If you still don't have API access, and want to get started with the QiiQ VA, we can integrate with your EHR using the industry standard HL7 interfaces, but this will require more conversations between your IT department and our staff.
Q. Who do I have to talk to in order to get the FHIR endpoint?
Answer:
Your IT department will generally know if you have the FHIR endpoint, or who to get that information from. Access to the FHIR endpoint may also be restricted, and requires either your security officer or Chief Information Officer to authorize access. This oversight is needed to ensure that patient data remains protected and confidential. Having clinical software that doesn't require IT involvement for deployment is faster to approve and deploy than traditional applications. We encourage our clinicians to have an open conversation with their IT department about the benefits of using the QiiQ VA and the simplicity of the deployment.